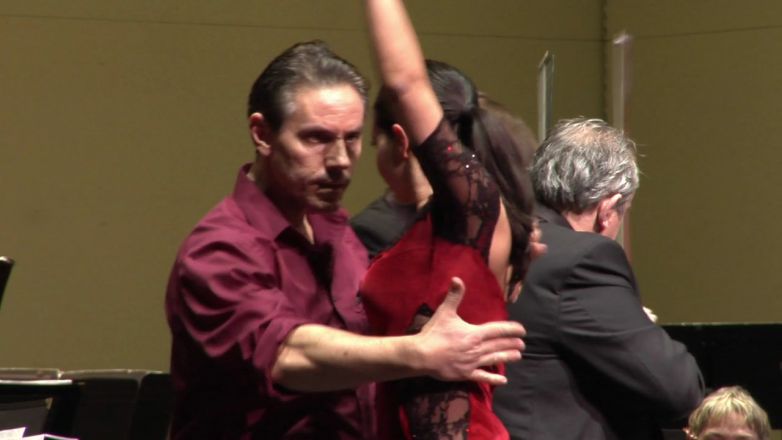 Tango! with the Peninsula Symphony and Quartet San Francisco
Peninsula Symphony and Music Director Mitchell Sardou Klein welcome the New Year with a colorful program of tango music.  All of the passion and magic of Tango! comes to our stage, with Quartet San Francisco (and its founder, violinist Jeremy Cohen), colorful tango dancers Sandor & Parissa, and the Symphony all combining for an electrifying evening of classic and new tangos.
Tango began in the working class neighborhoods of Buenos Aires, blending African rhythms with instruments and techniques from Europe. Composers such as Astor Piazzolla further influenced the tango by introducing jazz rhythms and classical music, creating a Tango Nuevo. Around this time, the tango was forced to go underground in Argentina, with a conservative government deeming it publicly unacceptable. An eventual change in government led to the resurgence of tango in the 80s, and since then, it has enjoyed new popularity, with composers such as Arturo Marquez and dancers such as Sandor & Parissa keeping it alive on the international stage.
Sandor, born in Buenos Aires Argentina, is one of our times' top Argentine Tango choreographers, performers, and instructors, with his own unique signature style. His entire family were artists and entertainers. His parents produced, directed, choreographed, and danced for countless television, theatre, and circus productions around the world. At the age of eight, Sandor joined them to tour throughout South America. With an extensive background in Ballet, Contemporary, and Jazz dance forms, he was later featured in numerous television, film, and theatrical productions in Argentina
Parissa, born Persian, spent most of her early childhood in the south of France. The San Francisco Bay Area became her home at age eight, at which time she started performing pre-pointe Ballet, Tap, & Jazz in various theatrical productions.
After relocating to Southern California to pursue her acting career, she discovered her talents for Ballroom Dance. Parissa has been featured dancing all styles of Rhythm, Latin, Salsa, Swing, Smooth, & Theatre Arts.
With an extensive background in performing and teaching all partnering dance styles, Parissa has been specializing in Argentine Tango since 2000, when she and Sandor became partners. They have been very happily married since 2005!
Together, they have been featured in & choreographed for countless Television, Film, & Theatrical Productions, and have participated as Master Instructors in Tango Congresses worldwide.
They have choreographed for U.S. Olympic Ice Dancers Melissa Gregory & Denis Petukhov, and Bulgarian World Ice Dancing Champions Albena Denkova & Maxim Staviski.
Sandor & Parissa have been the chosen Tango Couple to perform for events presented by the Consulate of the Argentine Republic, as well as for numerous celebrity events & shows presented by stars such as Debbie Reynolds, Ricardo Montalban, Charo, Jennifer Lopez, & many others.
Parissa has worked with several renowned public figures, including Antonio Banderas as his Tango & Ballroom coach, to prepare him for the movie Take the Lead, and she has worked with Halle Berry as her Latin Dance choreographer for a Revlon commercial.
Parissa assists Sandor in choreographing many of the Argentine Tangos on ABC's Dancing with the Stars, including the one performed by Cheryl Burke & Gilles Marini, which was voted "The Best Argentine Tango" ever performed by a celebrity competitor on DWTS.
Sandor & Parissa have also been featured performing on ABC's Dancing with the Stars, and announced as "The Most Spectacular Argentine Tango Dancers in the World."
As well as being a highly revered dance instructor, Parissa has achieved outstanding reviews as an internationally acclaimed choreographer and performer.